Printing Outdoor Pole Banners
Kalamazoo Banner Works uses two distinct fabric types for outdoor pole banners and other types of banners. As of January 2020, all our street banners are digitally printed on two sides of either marine acrylic fabric *(Sunbrella®) or white premium 22oz vinyl digital media. Prior to this we had a large screen print operation, as well as standard digital on vinyl printing, but advancements in digital printing now allows us to print vibrant colors onto any color of marine textiles. Yes, this is a new process and is the result of extensive research and development done exclusively by KBW/Consort, in cooperation with Glen Raven Mills, the manufacturer of Sunbrella brand fabrics.  If you're unsure which media you would like, the professionals at KBW, or your dealer, can help you figure out which is best for your project.
If you would like to request a sample of digitally printed fabric fill out form here!
| | | |
| --- | --- | --- |
| Base Material | Marine Grade Acrylic | 22 oz. Reinforced Vinyl |
| | | |
| Artwork | Vibrant colors & simpler designs* | Complex colors & photo images |
| Standard Finishing & Options | Yes | Yes |
| Weather resistant | Yes | Yes |
| Fade resistant | Yes | Yes |
| Warranty | 2 years | 1 year |
*See Sunbrella® colors below
How to decide between marine acrylic or vinyl banners?
If cost is your biggest concern, vinyl is the way to go. If a "richer look" is a priority, we suggest marine acrylic, although we do not recommend printing on white or light-colored marine acrylic for street banners. This is because sunlight will create shadows of printed images from one side to the other. The darker marine acrylic fabrics will avoid that issue. If you require a white or light background, choose our vinyl media, which has a "block-out" liner to prevent shadowing.
Which is more durable and long-lasting in the weather?
Advancements in ink technology make both marine acrylic and vinyl good choices, although we prefer marine acrylic as the best value for longer term installations.
About Digital Printing on Marine Acrylic
Marine acrylic banners are perfect for long-term outdoor banner use. The simple yet bold design is often the best way to convey your message.
Digital printing features:
Standard Finishing and Options
Durable Marine Grade Fabrics and Colors ( see below)
Fade and Weather Resistant
Warranted for 2 Years
About Digital Printing on White Vinyl
Digital banners can be printed on a number of different white vinyl materials for indoor or outdoor use. With its photographic look, digital imaging allows you to bring photos, logos, or illustrations to life.
Digital printing features:
Photographic Look
Banner Material Options
Standard Finishing and Options
Warranted for 1 Year
Banner to Pole Sizing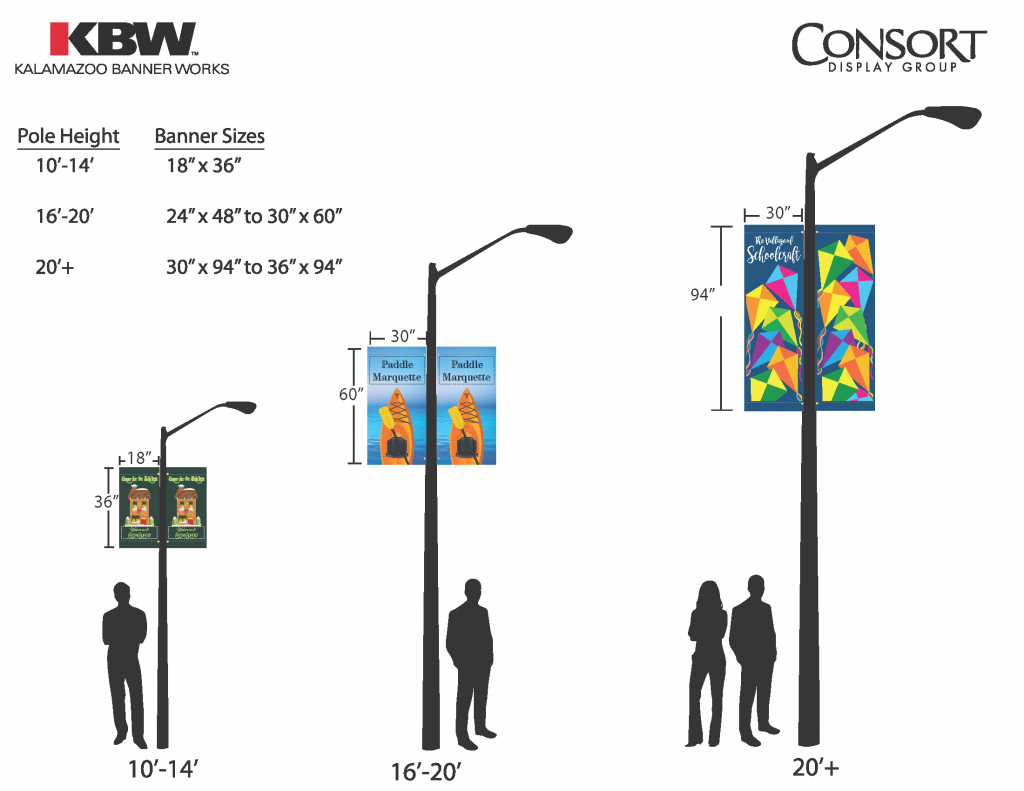 Use this guide when figuring out what size Banners will be needed for your project. Download PDF for future use, or for a larger illustration HERE
Digital Printing Banner Materials
13 oz. Scrim Vinyl
This material has a smooth, matte surface and is ideal for one-sided outdoor use because of its scrim backing, providing strength and durability.
13 oz. Blockout Vinyl
Our blockout banner material is micro-textured for a smooth, highly consistent surface.
With the addition of a blockout layer in the middle of the material, this vinyl has the capability of being printed on both sides. We recommend this type of banner for indoor banner displays and tradeshow booths.
22 oz. Blockout Vinyl
A heavy-duty version of the 13 oz. blockout vinyl, this material provides superior strength and durability and can be printed on both sides. Great for pole banners, "over-the-street" banners, and stadium decorations, this material offers very low cold crack, excellent resistance to wind whip, and exceptional long life.
Acrylic Marine Textile Sunbrella®
We use Sunbrella and Sunfield brand marine acrylic for its time-tested fade resistance and durability. The rich colors, and distinctive textile characteristics make it a favorite not only for its inherent quality but also because it looks great! Our new digital printing method is a super match for this premium product. You've see countless examples of the outdoor appeal with awnings, marine covers and outdoor furniture.
Acrylic Marine Textile Sunbrella® Versus 22 oz Vinyl
When printing on Marine Acrylic Material versus 22 oz Vinyl Material there are some notes to be known about Marine Acrylic;
-We do not print into pole pockets
-We do not print into ½" side seams
-You can only cover the banner up to 60-70% with ink
-Not suitable for photo graphics or full color design
Recommended Applications
Available Materials
Interior Applications
Exterior Applications
Horizontal Applications
Double Sided Printing
13 oz. Banner Vinyl
 √
 √
13 oz. Blackout Vinyl
 √
√
 √
22 oz. Blackout Vinyl
 √
 √
 √
 √
Marine Acrylic Textile
 √
 √
 √
 √*
*not recommended with white or light colored marine acrylic