Banners in Wauchula, Florida Celebrate the City's Sandhill Crane Heritage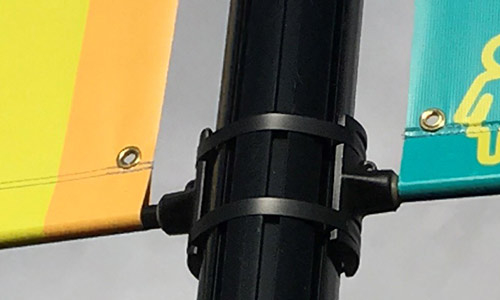 The Kalamazoo Banner Works division of Consort was pleased to be asked by the Wauchula, Florida "Main Street Wauchula" (MSW) program to assist in designing and manufacturing their new street banners in mid-2010. Earlier this year, we received some wonderful installation photos showing the fun and somewhat whimsical banners up and greeting folks to this unique and historical town.
Our KBW Florida dealer, Cynthia Roberts of Banner Works of Florida, was our main contact who handled all the details. And, our in-house Consort design staff fielded the design concepts and requests and came up with three versions showing a sandhill crane in action.
Here's a portion of what the local paper had to say in explanation of the designs:
"When Main Street Wauchula's Design Committee set a goal to get new banners for downtown, they decided they wanted banners that were unique to Wauchula and that would welcome visitors and educate them about Wauchula's heritage. Wauchula's name comes from a Miccosukee Indian word meaning 'land of the sandhill crane.' Appropriately, the sandhill crane would become a downtown icon and the focal point of the banners."
To carry the theme further, the MSW Design Committee states, "This year the committee has been working hard on the sandhill crane sculpture project. This project will place 2 life size sandhill cranes in the fountain located in the Heritage Park in downtown Wauchula.
For all the planning and effort, MSW was given the Honor Award for "Outstanding Image Campaign or Promotional Material" at the Florida Main Street Conference last fall.
Congratulations to all involved!
Roger Lepley