Bring Color to New Year's Celebrations with Light Pole Banners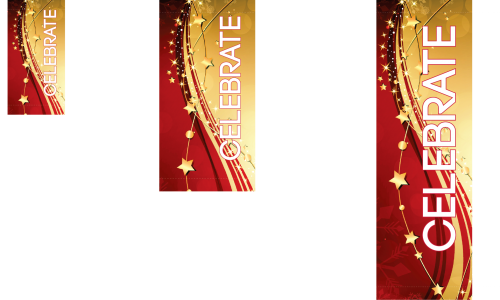 Whether your area's New Year's celebration is held in a large park or a city center, there are plenty of opportunities to utilize light pole banners to celebrate the holiday. By providing light pole banners that display the cheer of the holiday, you can help visitors more easily find where your celebrations are happening, bring color to the venue, and increase the overall cheer of the holiday. The team at Kalamazoo Banner Works has crafted a large variety of banners over the years that you can count on to add the perfect signage to your event.
Colors for a gray season
While the rest of winter tends to be gray and unexciting here in the Midwest, you can add even more color to your New Year's celebration through the implementation of light pole banners from Kalamazoo Banner Works. Whether you want the traditional colors of the holidays like deep greens, reds, and white, or you want to do something more extravagant like a red and gold banner, you can find exactly the right celebration banner to match your other lights, decorations, and overall feel for the holiday. We have helped those across the country find the perfect banner to suit their needs, and our team of professionals has the expertise to help you find the best one for the New Year.
Custom light pole banner messages
With Kalamazoo Banner Works light pole banners, you can add custom text for many of our banner options, allowing you to spread the cheer of the New Year how you want! For a small additional fee, you can choose a custom font from our list of available ones, as well as custom text with it, saying whatever message you choose. This can allow you to do something more personalized for your town or city, more general messages, and more. Every part of a banner created by Kalamazoo Banner Works is made to best serve our customers' needs, so make sure to consider what you could do with yours.
As the first street banner company in the United States to sell to customers from all over the world, Kalamazoo Banner Works has more than enough experience to guarantee you a quality shopping experience. When you get your hands on your banner from us, you are sure to see the difference in what quality banner products can do for you. Look through our products or contact us to find the perfect banner today!