Bring in New Year Events with Information on Vinyl Banners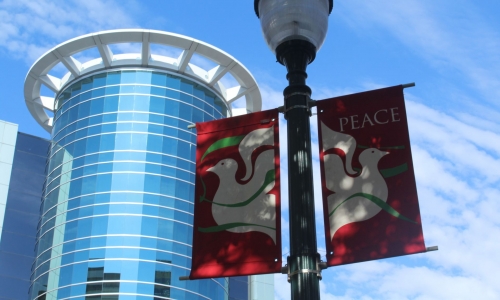 With a new year comes another year of events that you can advertise using vinyl banners. Almost every month of the year features some event that you can hang up on a beautifully printed vinyl banner. Kalamazoo Banner Works makes your life easy by providing all the banners you could need for such events with designs that make them stand out with a clear message.
Premade selection
Kalamazoo Banner Works provides a large selection of patterns for you to choose from when you want to use vinyl banners. From seasonal banners to every major holiday, Kalamazoo Banner Works has designed, and has readily available, banners that can get the job done all year-round. And, with many of them offered in different sizes and the ability to add custom text to the printed design, you can even personalize them with either a hometown message or a simple season's greetings.
What vinyl allows
Compared to simpler designs that we offer with our marine grade acrylic banners, our reinforced vinyl allows us to print complex colors and photo images, so you can get the lifelike photos displayed that you love most. This photo-realism can be used for photos, logos, and even illustrations to advertise your events in a unique and exciting way.
Built to last
Between the hardy material used for our vinyl banners and the banner bracket hardware available from our sister company BannerFlex, you can ensure that you banners hold strong against wind and harsh weather throughout the season or holiday you need them to before swapping them out. Without the right hardware, it's likely your banner could become damaged, so make sure you use only the most dependable when hanging a Kalamazoo Banner Works Banner to get the most use.
Kalamazoo Banner Works has been owned and operated with a customer-focused vision for over 30 years. Offering the best banners for Kalamazoo and beyond, see what we can do for you in the new year with trusted vinyl banners.