Celebrate Summer Holidays and Outdoor Events with Seasonal Street Banners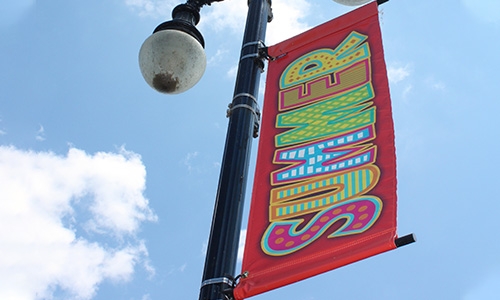 Summer is in full swing, and with the warmer weather comes many opportunities for outdoor events. With the remaining summer holidays on the way, what better way to promote summer celebrations than with a light pole banner with a design that matches the season? With a wide selection of digital banner designs, Kalamazoo banner works offers high quality light pole banners that can help you bring celebratory colors and messages to your city street.
Ready to Print Banners with Celebratory Designs
Offering a wide variety of ready to print designs for the summer season, if you're looking for a summer banner design from Kalamazoo banner works, we guarantee you'll be able to find a street banner for any occasion. With colors that help you celebrate the summer months, and designs that bring attention to holidays, Kalamazoo Banner Works has a banner that can fit any summer event. Our Ready to print banners come in a variety of sizes, and feature customizable text, and with the impressive variety of designs available from Kalamazoo Banner Works, finding that perfect summer event banner will be easy.
Custom Printed Designs for Your Summer Events
But what if you're looking for a more specific design? If you already have a design in mind to advertise your summer events, Kalamazoo banner works can help turn it into a custom banner. with the capabilities to print almost any banner design, and with color matching capabilities that can get as close as possible to the colors chosen for your design, if you have a custom design, you want printed for your summer event or holiday, you can count on Kalamazoo banner works to deliver your custom design on a high-quality street banner.
Finding the perfect design to help your city celebrate holidays and other events this summer is easy. With the vast selection of ready to print summer designs, as well as the capabilities to produce custom banner designs, Kalamazoo banner works is ready to help you find, or even make, the design of your choice to help your city's celebrations this summer. Browse our selection of summer light pole banner designs or contact us today to learn more about our ready to print banner and custom banner printing services.