Digital Banners Keep Color on Campus through the Holidays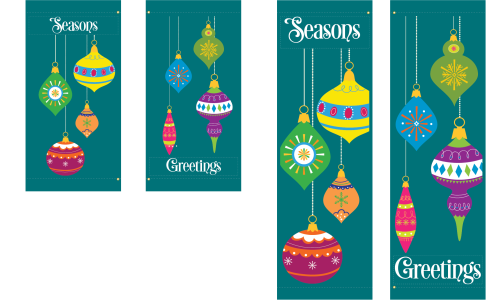 As we start and continue through the holiday season, digital banners are the perfect addition to any campus to ensure there is still bright and cheerful color present. As it gets toward the end of the semester for students and they make the final push into the holidays, you can send them off and greet them after they are done with bright and colorful messaging from a digital banner.
Kalamazoo Banner Works provides digital banners that are vibrant, eye-catching, and ready to hang, with the right hardware, right out of the package. Our banners have served college campuses to help them guide students to events, get in the right mood for the holidays, help them grow their school spirit, and more.
The perfect locations
Because college campuses have so many areas where banners can fly high, they often make one of the perfect locations for color banners to be effectively used. Students cause a lot of foot traffic to pass by banners, meaning they can serve a variety of purposes and be placed almost anywhere!
With the mounting capabilities of the banners offered at Kalamazoo Banner Works, our colorful banners make the ideal decoration for your campus wherever you need them. Whether you choose marine grade acrylic for vibrant colors that stand out against the coming snow or reinforced vinyl for more complex color and photos on your banners, your banners will be perfect for the season.
Designs old and new
When your college campus needs new banners to hang around, the designs at Kalamazoo Banner Works are great for the job. We carry a variety of seasonal favorites that businesses and municipalities have used in the past that would also look great hanging at a college campus. Whether you need recommendations on what options are available regarding your school's colors, or you want something more focused on the festivities, we have it all and everything in-between.
With either one of our older designs or one that is new to us this year, many of the banners that Kalamazoo Banner Works offers in our regular section can fit perfectly anywhere on your campus. Consult with our team, and we can even assist you through the process of creating your own great designs to welcome the holidays for students!
From the Consort Display Group, Kalamazoo Banner Works offers the best options for your banner needs this holiday season. Contact our team to learn more and get started on your orders for digital banners today!