Display New Policies on Noticeable Digital Banners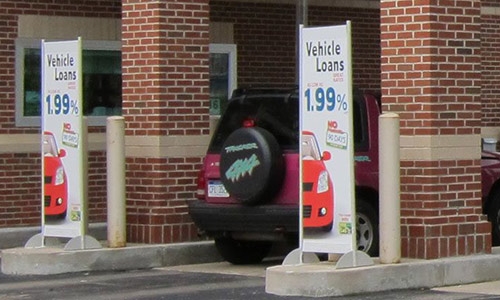 Because of social distancing mandates imposed on states and all of us trying to be careful with COVID-19 still present, your business can put your new policies front and center for guests through the use of effective digital banners from Kalamazoo Banner Works. Trying to maintain distance, wear masks at all times, and more are some of the common practices business must abide by right now to protect their workers and their guests, and your business can ensure that visitors know these rules before they even step in the door with a noticeable banner.
The stand for the job
We at Kalamazoo Banner Works pair our banners with the hardware from our sister company BannerFlex to give the most effective design of digital banners. And, for grocery stores, retail, restaurants, and more, the banner stand from BannerFlex is the perfect tool for the job of display new visitor policies. Designed to hold our banner strong, the banner stand from BannerFlex ensures that the message on your banner can be placed wherever you need it, inside or out, to make sure that your guests see what your new policies are front-and-center before getting too far. We all have to stay vigilant during this strange time, and having a clear message with a digital banner on a banner stand is one more way to ensure we get through it together.
Eye-catching design
Besides placing your banner right in the view of visitors, you can also get their attention with it through effective design. If you don't have one in mind of your own that you would like to use with company logos, branding, etc., Kalamazoo Banner Works can also help you create a new design that you're sure to love. Our team works with customers to know exactly what kind of banner they're looking for, so you can have confidence in your banner design.
With limitless designs available through professional printing, digital banners from Kalamazoo Banner Works are an effective tool for you to use as we continue to social distance and follow new protocol. Contact us today to get started on yours!