Display the Spirit of Summer with Digitally-Printed Banners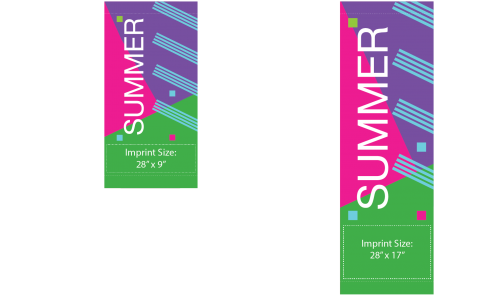 Now that much warmer weather has made its way consistently to us again, your business or event can help your visitors or customers feel the spirit of summer by using professionally-made digitally-printed banners. Kalamazoo Banner Works carries a large variety of banner options for customers who are interested in portraying images related to it, and we can also provide services to print your own designs that encourage others to get into the idea of summer!
Find your banner
A quick and easy way to get your banner for the summer season, Kalamazoo Banner Works provides an extensive catalogue of predesigned banners for you to choose from, many of which are seasonally themed. These banners come in different sizes to ensure that everyone who needs one can find the size they need to fit their individual pole hanging or wall mount. Some of our designs also have space for you to portray your very own message alongside the predesigned graphics, so whatever message you wish to get out for the summer, you can get out in a bright and colorful way.
Keep it simple
When you create your own design for a banner and want us to handle the printing, keep it simple! All too often, we have seen digitally-printed banner ideas come to us that attempt to do too much on the banner. When thinking about a banner that you want to use to get a message out, it's better to make a banner that is clear cut in its images and message to make it more easily-readable. This ensures that everyone who sees your eye-catching banner gets out of it what you want them to.
Perfect for bringing the spirit of summer to downtown areas, shopping districts, and more, printed banners from Kalamazoo Banner Works are sure to bring in more individuals through effective messaging. Call us today to figure out how you can best display a message this summer!