Encourage Visitors to Opened Venues and Events through Welcoming Banner Design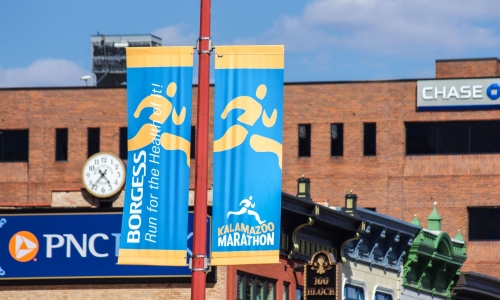 Now that stay-at-home orders are starting to go away and we are all able to start going out and enjoy places more often, businesses can encourage visitors through the use of effective banner design. We've all been stuck inside for so long that everyone is likely looking for fun things to do out of the house, and you can more easily draw people into your venue or event through effective banner design from Kalamazoo Banner Works that lets them know that when they visit, they're in for a fun time.
Interior and Exterior
Whether your venue needs to advertise for something indoors or you need to reach people out and about, Kalamazoo Banner Works provides functional banners that give you the perfect way to catch the eye of passerby's. Our banner designs have been developed and used all through the country for decades, so you know that when you order from KBW, you're getting the best banners in the business to help you get the word out about what you're advertising.
The right banner
Having developed banners and worked with those who need them for so many years, Kalamazoo Banner Works has the expertise you need to make informed decisions about what type of banner will best serve you. From determining the right size to the right materials, KBW can suggest everything you need to have a banner that can hang for a long time, while resisting the elements, and be used again and again. And, with the great designs that you can implement on Kalamazoo Banner Works banners, you're sure to interest your customers now that people are out and about again.
Specializing in vertical banners that are world-recognized, Kalamazoo Banner Works has the capabilities you need to boost business and attendance numbers now that stay-at-home orders are coming to an end. Contact us today to learn more about what we can do for your banner needs!