Find Light Pole Banners from a Banner Outlet Store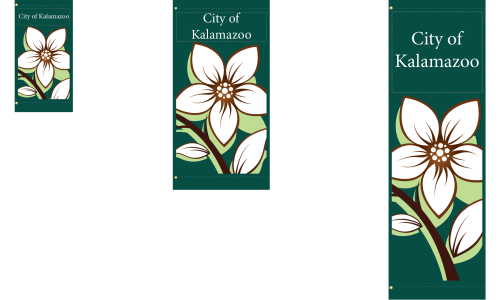 Kalamazoo Banner Works provides a huge variety of light pole banners that customers can select from, and that includes those found in our outlet store. Occasionally, banner designs that are popular for a season or a large order is put in for can be over printed, which leads to us having an excess of a certain size or design that our customer doesn't need.
This is good news for those looking for great outdoor banners, as these extra banners are then put into our outlet store which offers a highly discounted rate for banners.
How to find available designs
Whenever our outlet store has a design available for purchase, the team at Kalamazoo Banner Works puts it up here. This page shows the available designs that KBW has currently, allowing customers to make great savings on a design that might perfectly match the environment or even that they have. These designs are updated as we print banners throughout the year, so make sure to check back frequently to see if there is a design that you can get at a great discount.
Our team is always looking to provide our customers with a quality product at a great price, so make sure to take advantage of the outlet store offerings when you can!
Find mounting hardware for banners
Once you order light pole banners from Kalamazoo Banner Works, you may need a way to hang them up, and that is where our sister company, BannerFlex, comes in. BannerFlex offers different options of banner brackets and arms that can make mounting on light poles a simple task. Many of the arms for brackets are designed for longevity, with the strength to stand up to even the strongest winds.
These mounting options are tried and true methods of getting banners up and holding them up throughout the seasons that you need them. With thorough testing and a track record of success, there is no better option in the business of banners than banners from Kalamazoo Banner Works and brackets from BannerFlex.
As a company that specializes in large vertical format banners, you can count on the light pole banners from Kalamazoo Banner Works, even those from our outlet store! If you have events coming up that match any of the designs for banners that we have available in our outlet store, take advantage of the great deals we offer by contacting our team or placing an order online today!