Get a Banner That Helps You Promote Your Spring Events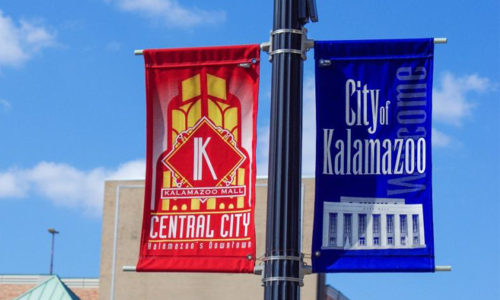 As warmer weather approaches, you can prepare for all the seasonal events Kalamazoo has to offer with a street banner from Kalamazoo banner works. Street banners are a great way to promote commercial and personal events. KBW is ready to help you make the perfect banner, with several predesigned banners or your own custom design, you'll be ready to promote your organization this spring.
Find the perfect design for your springtime banner
Finding a banner in time for the spring season is easy with Kalamazoo Banner works. Our ready-to-print banners are a fast solution to finding a design that best fits what you're looking for. With an extensive collection of premade digital banners, all you need to do is choose a design and our team will help you through the rest. From banner size to text layout, the team at Kalamazoo banner works will make sure that your predesigned banner is exactly how you want it.
Make a unique banner with a custom design
But what if you already had a design in mind? Kalamazoo Banner works has everything you need to make that design into a custom screen printed banner. Either by giving us input on a design and letting us design it for you, or by uploading a photo or design digitally, you can make the banner you want exactly how you want it. our team will make sure your custom design turns out perfectly, with color matching as close as possible to your original design.
A banner that can withstand the elements
Our light pole banners are strong enough to handle any weather. Both our acrylic fabric for vibrant colors or 22 ounce Reinforced vinyl for photographic images, are fade resistant, so you won't have to worry about your banner's image fading away from being left out. Both types of fabric are weather resistant as well, meaning that whichever style you choose, your banner will be able to handle any weather.
So as the seasons change, make sure you're ready for the spring season in downtown Kalamazoo with the perfect seasonal banner from Kalamazoo Banner Works.  Whether it's a ready-to-print premade banner, or your own custom design, KBW will ensure that you receive the quality banner that you need to promote your event or organization. Upload your design today, or Contact us for more information.