Get a Head Start on Fall with Light Pole Banners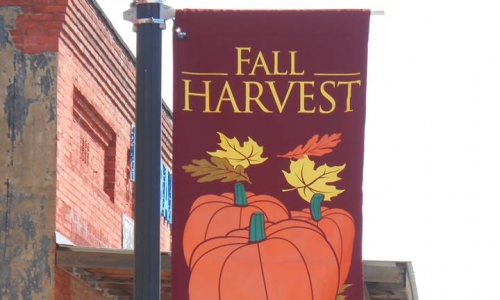 Whether your city is hosting events this fall or just wants to fit the season with colorful, eye-catching banners, Kalamazoo Banner Works can provide light pole banners to give streets a little extra something this autumn. Designed to hold up to high winds which can often be present in fall, the banners from Kalamazoo Banner Works can dependably give you the decoration around a city you need.
Find your design
Kalamazoo Banner Works provides a large selection of pre-designed templates for you to choose your fall banner from. Whether it's leaves in the colors of fall or ever-iconic pumpkins, you can bring the spirit of autumn to your streets with light pole banners that represent the season. Depending on the size of your light poles, you have a few choices of lengths to make sure your new banners fit everything as they need to. Most of our pre-designed banners also come with an imprint area, so you can spread whatever holiday cheer for autumn you wish to.
A secure hold
Not only are our banners designed to stand up to strong winds, but we also provide, though our sister company BannerFlex, banner bracket arms that are specifically designed to ensure your banners never tear or get ripped off in high winds. As long as you install your banners and banner brackets using the correct tools and methods, you can be sure that your banner will last all season without any issues.
Design your own
If your team has a graphic artist who you trust to create a great design for your light pole banners, you can have them create and upload the design as an Adobe Illustrator, Adobe InDesign, or Adobe Photoshop file, with native format, fonts, etc. and we can get it printed without trouble! We even do the first 4 hours of artistic adjustments as a complimentary service to make your banner look as good as possible before it's printed.
Kalamazoo Banner Works is the dependable provider of light pole banners with over 30 years of experience. If you want to attract attention and improve your downtown this fall, contact us today!