Get an Outdoor Display That Holds Strong in Harsh Weather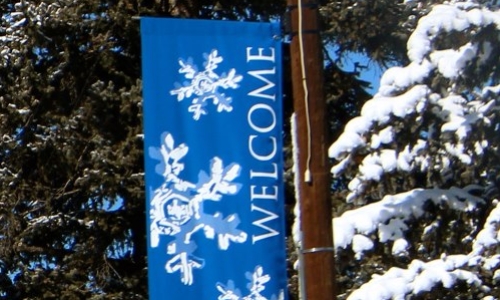 As winter draws closer, colder weather is on the way and if you are looking for outdoor decorations for your venue, you'll want one that can stand up to the worst of the weather that late fall can bring with it. Offering light pole banners printed on hardy materials that stay strong through fall and winter storms, snow, wind, and more, when you are looking for an outdoor decoration that can withstand the elements, there's no better choice than the banners from Kalamazoo Banner Works. Made with materials that can provide your venue with a stunning display year-round, and with mounting hardware that can keep your banner secure in event he worst that the colder seasons have to offer, you can count on KBW to provide you with a banner that provides an impressive outdoor display year-round.
Banners Made From Strong Materials
The light pole banners from Kalamazoo Banner Works are made from sturdy, weather resistant materials that can hold up in almost any weather. Using either Sunbrella® marine grade acrylic fabric, or 20 oz reinforced vinyl, whether they are facing high winds, heavy rain, or even snow, your banner can be displayed no matter the conditions. Unlike flags which flap in the wind, our banners were designed to stand strong against high winds and are able to do so thanks to the mounting methods from BannerFlex. With banner brackets that allow for your display to be mounted on any light pole with durable and dependable hardware, your banner will have a mounting that keeps it from flapping, fluttering, or whipping in the wind, preventing weather related damage to your banner and its design.
Online Tools to Help Determine Your Banners Sturdiness in High Winds
Different areas face different weather conditions, and if you want to find a banner that can handle your locations specific wind conditions, Kalamazoo Banner Works has devised a tool that can help. Because winds can get intense in different parts of the country, you can use our online wind force calculator to find out how much your banner can handle without being affected. By choosing your mounting method, banner size, and wind speed, our wind force calculator will help give you information on how much wind force your banner will encounter.
When you need an outdoor decoration that can stand up to the harsh weather conditions that fall and winter can bring, you can count on the banners from Kalamazoo Banner Works. Made from hardy materials, and with mounting methods that help them hold strong against wind, snow, and rain, our banners will last in even the toughest weather. Learn more about our banner materials, mounting methods, and more on our website, or contact us today to learn more about the light pole banners from Kalamazoo Banner Works.