Get More Foot Traffic with Quality Light Pole Banners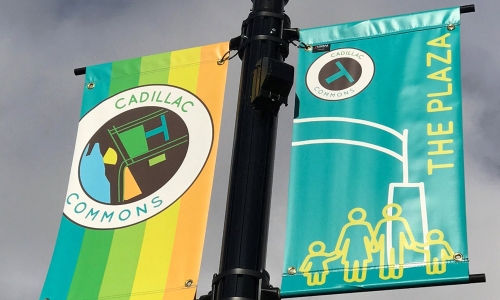 With summer here and plenty of people making their way outside, quality light pole banners from Kalamazoo Banner Works can increase foot traffic to your business or event. As restrictions have been lessened and will be again at the start of July, there is a great opportunity for your business or event to take advantage of quality banners as advertisement tools to try to help increase your foot traffic.
Banners for the whole season
Even though summer can be represented through one of our seasonal banners well, you can also find a multitude of great options for different events, holidays, and more. The different themes that Kalamazoo Banner Works has available for our banners ensure that no matter what you are trying to advertise, you can find a great visual option for your banner. And, if you cannot find one of our banners that is close enough to what you are looking to display, you can utilize your own designs and we will print them!
Find the perfect light pole banner material
With two different options available for your light pole banners, you can get the exact banner that you are hoping to get by choosing the right one for you. Our marine grade acrylic banners have vibrant colors, but more simple designs available, whereas our reinforced vinyl options allow you to use complex colors and photo images. Both can provide you with a quality banner that is durable and will stand up to the elements, so you can decide based on what you want on the banner. Either way, you are receiving a great banner for your business or event to bring in foot traffic.
With Kalamazoo Banner Works, you know that you are always getting a quality product. With decades of experience providing the best light pole banners around, your business or event can find the perfect one by contacting us today!