Get Ready for the End of Summer with Autumn Digitally Printed Banners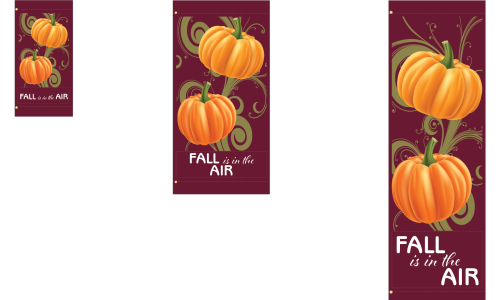 As we get close to the last official month of summer, digitally printed banners from Kalamazoo Banner Works can get businesses, event coordinators, and more ahead of schedule with preparation for important events. We at Kalamazoo Banner Works have recently added our new autumn and winter lineup of banners to our digital banner designs, so anyone can look through and find the perfect design for their needs.
With a banner from Kalamazoo Banner Works, events can get the proper advertisement, while building excitement in the local community.
Bring in something new
Kalamazoo Banner Works puts out colorful, unique designs year-round, so make sure to check and see what latest ones we have been working on to always have the perfect banner on-hand for your events! We also have an extensive backlog of banners that anyone can take a look through from our digital banner page. Each pattern and layout is put together by our skilled team of designers to provide a great option for anyone to hang for their autumn events.
Whether you want a banner that shows realistic imagery of autumn leaves and pumpkins or something that is more abstract and colorful for the season, Kalamazoo Banner Works carries something for everyone.
Get the full banner package
When you order banners from Kalamazoo Banner Works, you can get the full banner package for hanging them when you also order with BannerFlex from Consort. Another of Consort's product lines, BannerFlex provides the best hardware for hanging banners, even in high-wind areas, meaning you can get every piece of your digitally printed banner system in just a few easy steps.
Our team is always available to help you make a decision on which hardware would best suit your needs. From our team of designers who can assist with customer banner designs to the sales team at BannerFlex to assist with your decision of banner hardware, Consort's different branches all work toward getting you a great product to make for the perfect outdoor decoration and messaging.
As the first product line of many for Consort Display Group, Kalamazoo Banner Works takes banners seriously. With unmatched customer service and products that have been developed and perfected over the years, KBW is your best choice of outdoor street banners no matter where you are located. Contact our sales team to learn more or get help with an order today!