Host Sports Tournaments in Style by Screen Printing Banners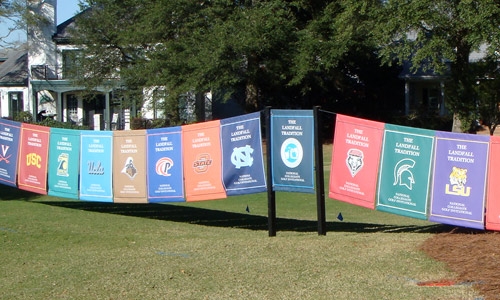 With sport tournaments being planned out later in the year, you can get a start as part of the planning committee for them by screen printing banners for the event. A way to add a great visual element to your event, screen printed banners from Kalamazoo Banner Works can catch the eye of visitors and make your event all the more official.
Team representation
A great way to make teams of the sports tournament you're hosting feel welcome, screen printing banners with Kalamazoo Banner Works helps you represent everyone coming to your event. With all the color options and capabilities of our team, we'll have each team's hometown colors and logo represented on a banner so they can see themselves and the teams they're up against right away. Add text on with their name and where they come from, and fans coming to your tournament will even know who their team is going to be up against!
Functional decoration
Every sports event needs some kind of decoration to really bring the event to life for fans, and by screen printing banners with Kalamazoo Banner Works, you can get ones that are not just visually pleasing, but also functional! You can utilize banners however you wish, which includes using them to show who is playing who next, which teams have been knocked out of the tournament, and which games are currently going on. No matter what you can come up with, colorful banners from Kalamazoo Banner Works bring a clear, bright-colored message to every fan on who is at your tournament.
Having crafted banners for over 30 years, you know you can depend on Kalamazoo Banner Works to provide quality screen printed banners for your sports tournament. If you have one coming up later in the year, make Kalamazoo Banner Works part of your planning and make the decoration for this year your best yet.