Keep Digital Banners Hanging Long-Term with Proper Hardware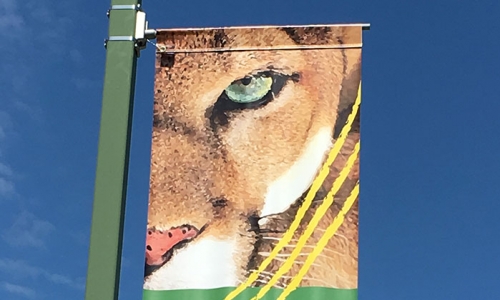 When you hang a digital banner, it's important that you keep in mind which hardware you're using to ensure that it hangs strong for as long as possible. By selecting the right banner bracket hardware, you can stop heavy winds from bringing down any banners and guarantee that general wear and tear doesn't affect the strength of the hold on your banner too quickly.
Built for strength
Through BannerFlex, Kalamazoo Banner Works' sister company, every banner hung by you can get the banner brackets that you need depending on the banner that you plan on hanging. This can be for banners that require more resistance to high wind conditions, standard banners that are going to be hung in a downtown setting, or even banners that aren't quite as wide as the others that we offer. No matter what you're looking for, Kalamazoo Banner Works and BannerFlex have the products you need to confidently hang digital banners.
Hang anywhere
With the proper hardware, you can not only hang your digital banners on standard light poles, but also on a variety of different surfaces. Again, offered through BannerFlex, the bracket accessories available to you to hang your digital banners can allow you to hang on a flagpole, walls, and squares poles too! Wherever you need your banner, you can hang it almost anywhere dependably with the strong hold offered by the bracket accessories from Kalamazoo Banner Works and BannerFlex. Weather and corrosion resistant, they'll last you for years to come.
Whether you're advertising for seasonal festivals, special events, or just adding to the appearance of your downtown with attractive images on your digital banners, Kalamazoo Banner Works has the printing and designing capabilities you need. Contact us today to figure out what you need to get started on beautifying your downtown in an eye-catching way.