Light Pole Banners that Help Celebrate Kalamazoo's Summer Bike Events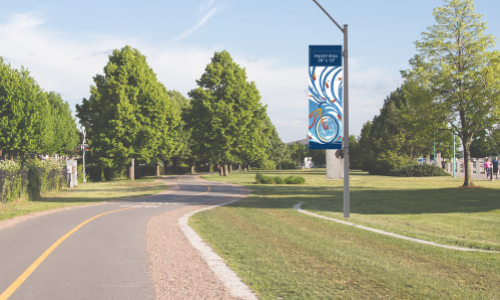 Summer is right around the corner, and as it starts to heat up, more and more people are going out to enjoy the weather and go for a ride. Kalamazoo is home to a large community of cyclists, so what better way to show your support for local cyclists than with a bike art banner from Kalamazoo banner works' public art competitions?
Featuring art made by community members in Kalamazoo, Kalamazoo Banner Works' bike art banners are a great way to show your support for Kalamazoo's bicycling events this summer. With a variety of winning banner designs available from Kalamazoo Banner Works, you'll be able to display your support for Kalamazoo's cycling community while using community designs.
Artistic Banners in a Variety of styles
Sponsored by bike friendly Kalamazoo, Kalamazoo banner works' art competitions in 2020, and in 2021, have resulted in a variety of unique designs. Whether you prefer designs that appear more realistic, or more whimsical, minimalist, or abstract, the award-winning designs from both public bike art competitions can fit the aesthetic you want, or the one that the occasion calls for. With thirteen designs available, you'll be able to find the bike art banner that fits any outdoor biking occasion.
Display Your Banner Anywhere With Mounting Methods From BannerFlex
Banners from Kalamazoo banner works can be displayed from pretty much anywhere. From Light poles, posts, to even ground stands, no matter where you want to put your outdoor display, if you can attach a bracket, you can display your banner. Partnering with BannerFlex to produce brackets and other mounting and displaying methods, your banner will be well secured and ready to withstand any unexpected wind or rain while it is being displayed. Street banners from Kalamazoo Banner Works can even be displayed without the use of a light pole. With a banner stand from banner flex, you'll be able to create an eye level display for your banner. With the mounting methods BannerFlex offers, you'll have a secure way to display your banner wherever you choose.
Whether you use them for summer competitions and events, or year-round, Kalamazoo Banner Works' public bike art competition banners are an excellent way for you to show your support for Kalamazoo's cycling community at any time of year. Browse the selection of winning designs or contact us today for more information about ready-to-print banners.