Local Banner Experts Provide Unbeatable Digital Banners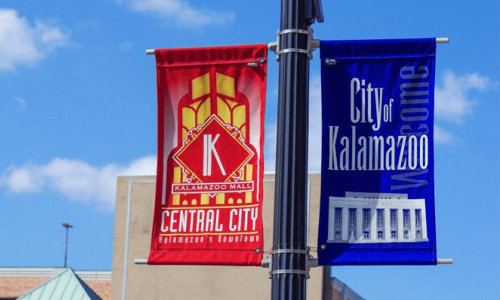 Whether you are an organization or a business that wants to attract attention with outdoor advertising, Kalamazoo Banner Works can provide you with the best digital banners available. We are local experts that have been in the business of printing quality digital banners for decades and can help your business get the word out with banners that cannot be beaten. Recognized around the world and trusted to provide some of the best printed media in the business, you can count on us to help you advertise any message.
Any design made for you
With the capabilities of our printing services, we can design digital banner options that are practically limitless. The art department at Kalamazoo Banner Works can assist your team in designing and creating the perfect image and messaging for your banner to ensure that it really pops. For most projects, we offer free, no obligation design services. Or, if you want a quick and easy design that might fit with what you need, we also offer a large list of pre-designed street banners that can be perfect for holidays, seasonal celebrations, and more.
Regular digital banner suppliers
Especially useful for those who have recurring events year after year, Kalamazoo Banner Works' digital banners can easily be made for our customers no matter how often they have events year after year. Annual happenings such as graduation of high school seniors, city festivals, holiday parades, and more can all be advertised through digital banners, with dates and related art shown each year. This can with turnout for events by adding one more way that your community knows about them.
Through our design capabilities and the effectiveness of our digital banners, KBW continues to push the boundaries of banners. Contact us to schedule your designs and printing to get on your way to better advertising with banners.