Maintain Messages Through Winter and Beyond with Light Pole Banners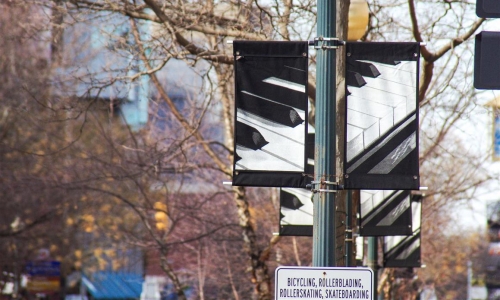 When you want banners that can stands strong against the elements this winter and for years into the future, you can depend on the light pole banners from Kalamazoo Banner Works. Professionally crafted and designed to give you the best message on a banner available, KBW can provide a great solution for you when it comes to getting out messages in eye-catching, effective ways.
Light pole banners done right
When Kalamazoo Banner Works goes to designing and crafting a banner, we only do so with the best materials for the job. Crafting street banners in marine acrylic fabric or premium vinyl for digital media, the team at KBW creates banners that hold up strong to the elements each winter season, while maintaining a bright, colorful message the rest of the year. Each of our material options are weather resistant and fade resistant, so your messages can stay up for extended periods of time without worry. We want our customers to have a great experience with their light pole banners, and that's exactly what they get KBW's products.
The forefront of banners
Kalamazoo Banner Works not only designs great banners, but we design banners you can count on. Our team has years of experience researching all the latest and greatest methods of printing for banners to ensure that they continue to improve in quality for our customers. Even this year, we changed some of our printing processes to update how we worked, developing and manufacturing better banners for our customers. Our expertise in the banner industry makes us a great resource for any business or individual looking to get out messages.
With over 30 years of experience, Kalamazoo Banner Works can provide any individual or business with the finest quality light pole banners. If you need to get a message out this winter season or any time after, give us a call and get started with your banner orders.