New! 28-Page Light Pole Banner Bracket Guidebook!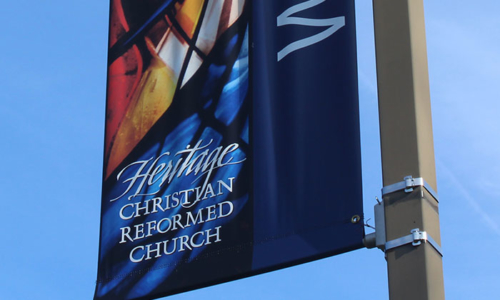 Since I've been actively and earnestly involved in our first product line, Kalamazoo Banner Works, for over 27 years, I've developed quite a lot to say about it. I believe it is worthwhile to share, especially since we are asked questions daily about the subject of hardware for light pole banners. The Kalamazoo Banner Works (KBW) line of BannerFlex® Banner Brackets is the oldest brand in the bracket business, and unquestionably the most innovative. Of course, I've written about these products many times, but now we have published the ultimate guide to answer almost any question we've ever received. Our new BannerFlex Banner Hardware Guidebook is available to you in .pdf download format or by requesting an actual printed copy at info@consort.com. As the preface in the guidebook says, "This information is presented especially for those considering the specification of banner brackets for use with vertical street banners, which are typically installed in communities for exterior light and utility poles."
We have especially compiled this information for anyone considering the purchase of competing products to the KBW Kalamazoo Banner Works product line. The Guidebook perfectly illustrates the considerable time and resources we've invested in the testing of our banners and brackets, including four separate wind tunnel tests. This guide is a result of that knowledge base and is intended to be a narrative for customers, engineers, utility companies and public works officials and briefly explains our products, our testing and what, in general, we know from experience about vertical banners on light poles. As always, if you need additional information, visit our website or contact your Consort KBW representative by phone or email. Our sales representatives, dealers and resellers are available to answer any additional questions or concerns.
Please Note: The installation of banners on exterior light and utility poles is serious business. The attachment of any devices above the heads of the public and above vehicles demands precision products tested and accurately manufactured and installed correctly. KBW Kalamazoo Banner Works by Consort Display Group has been innovating, testing and manufacturing these specific products since 1983.
I'd love to hear back from you after you've had a chance to review the information. If we've left anything out or if you have any questions please contact me.