New BannerFlex Banner Bracket Online Store!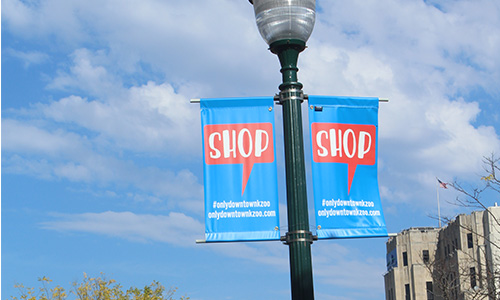 Consort's new http://www.bannerflex.com/ banner bracket online store is now up and running. The new store makes the ordering of our street pole banner brackets easy and swift. There are two ways to go through the site and the products depending on how much you do or do not know about ordering the proper banner hardware for your project.
If you're familiar with our BannerFlex® products it may be quicker for you to use the BannerFlex site. If you need assistance on which brackets might be best and you would like to be guided through to the other accessories to consider, you can choose the "Guided Purchasing" option the BannerFlex site.
The "Guided Purchasing" process is pretty impressive, actually! It begins with asking the type and size of light pole or utility pole and asks what size of banners you are considering. Once you've made those choices, the bracket options which are appropriate for your pole and your size of banners are shown with information attached to each bracket to help you make a selection. You can also choose regular aluminum color brackets or black powder coated at that time. After the brackets are chosen, attachment methods are given and, depending on your previous choices, either screw gear banding and/or tool-applied banding may be shown. Both of those options will be shown in both regular stainless steel color and black.
Other accessories are shown on the store which may be of interest. For example, the Wall Mount Plates are becoming more popular for folks wishing to mount vertical banners on buildings or large columns. Check out the three different shapes that we now offer.
We hope you'll visit the new store soon. As always, if you have questions about these or any Consort products please email or call us at 800.525.6424 or 269.388.4532 and we'll respond immediately. If you have any suggestions or comments about the new store please let us know!
Roger Lepley