Order Outdoor Banners Early for Pride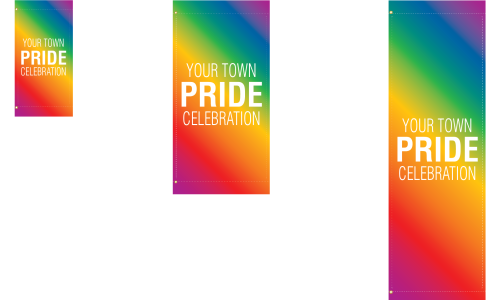 With Pride 2022 just a few months away, organizers can get the outdoor banners they need for the event with Kalamazoo Banner Works. It is always a good idea to get a head start on the details for a large event, and the outdoor banners that Kalamazoo Banner Works can provide for Pride can be ordered now so you give yourself enough time for shipping and planning.
With Kalamazoo Banner Works, you can always find the quality banners that will best serve your needs. By simply ordering with our team, you can set yourself up for success with advertising your Pride event.
Find your favorite outdoor banners
Not only is Kalamazoo Banner Works the longstanding favorite for many in the business of ordering outdoor banners, but we can also be your new favorite with all the options you have available when you order. For your Pride event, Kalamazoo Banner Works has 6 different options of banner patterns available. Each is colorful and vibrant, sure to catch the eye of anyone you are trying to interest in your event.
Each option also comes with a custom imprint area, allowing you, for an added fee, to add custom text. This can help you to personalize your banner and give the location, dates, and more for your Pride event so everyone interested can join the fun!
Hang where people will see
Because each outdoor banner from Kalamazoo Banner Works also comes in a variety of sizes, you can find the right one to allow you to hang banners where you have available space. Whether it is mounted on the outside wall of downtown businesses, hanging from brackets on light pole, or anywhere else you can think to hang your banner, its vibrant messaging will bring attention to your event.
Simply choose your size when order, and the team at Kalamazoo Banner Works will get your banner to you in record time. Many Pride events are a few months away, so make sure to order your banners in time to advertise before and bring color during your events.
With over 2 decades of experience, Kalamazoo Banner Works can provide quality banners that have stood the test of time. If you want a colorful and effective way to advertise Pride this year, consider outdoor banners from Kalamazoo Banner Works by contacting us to learn more or start an order with us. Our team will take care of your banner needs the right way.