Order Outdoor Banners for the Last Bike Competitions of the Year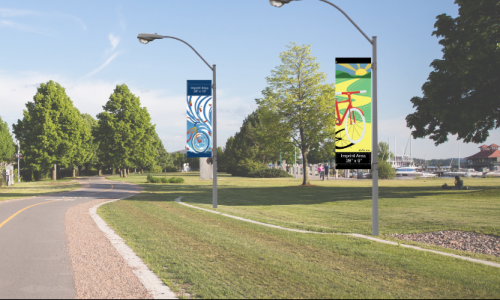 As we enter the colder parts of the year, you can order outdoor banners for the last bike competitions of the year before it's too late! Many areas on the north side of the country are winding down on their bike competitions for the year, while those in the south also slow down as temperatures drop. Bike banners are great for any competition by bringing attention to the event, serving as helpful reminders as to when and where it will take place.
Kalamazoo Banner Works produces banners for where and when they are needed, allowing your bike competition, whenever it is taking place, to have the proper signage up with dependable outdoor banners.
Advertise early
With some of the competitions later this year taking place a month or two out, there is still time to order bike banners from Kalamazoo Banner Works ahead of time and advertise early. Although we have quick turnaround, your event can often find more traction the earlier that you get banners up that are sure to grab the attention of passerby's and increase attendance.
To save yourself time on ordering, you can select one of our premade banners from our digital banner designs. Although the option to create and utilize custom designs is available to every customer, we understand that a short deadline my require you to use a premade design, and that is why we always offer them!
Quality, durable banners
Kalamazoo Banner Works has been the go-to banner company for many for over a decade because we offer only the best quality of durable banners for every customer. With the right banner hardware, our banners stand up to winds up to 100 mph, meaning they will give you a great hold anywhere you need outdoor banners. And chilling winds that come with this time of year won't damage your banners and their hardy designs.
Our banners also have bright, vibrant printing done so they will last you for years to come. This allows every customer to order outdoor banners for bike competitions that can either have the date of the event displayed for single use, or simply the name of the event and graphics if it is an annual event.
With both marine grade acrylic and 22 oz. reinforced vinyl available as options for outdoor banners, Kalamazoo Banner Works provides bike banners for both simpler designs and complex imagery based on what our customers need. Contact us today to learn more about our capabilities and how we might help you advertise your last bike competitions of the year.