Order Premium Holiday Banners Early this Winter Season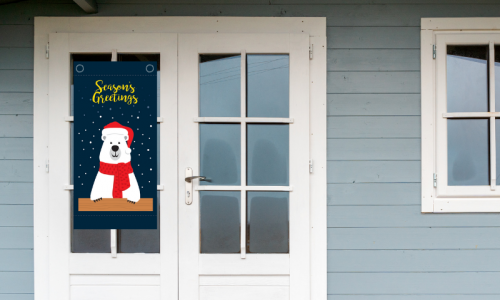 With the holidays fast approaching, your indoor or outdoor space can fully-represent the thrill of the holiday season by hanging a premium holiday banner from Kalamazoo Banner Works. Crafting quality banners that display beautiful images for the season, KBW has the inventory to guarantee everyone gets the holiday banner they need. We have many new options this holiday season, so look through and find your favorite today!
Built for the elements
The banners from Kalamazoo Banner Works are crafted on premium Sunbrella® fabrics, meaning that your holiday banner is durable enough for either outdoor or indoor use. All one-sided, you can effectively display a message for the holidays at entrances to a building, on light posts along a busy roadway, or even in front of your home! The banners from KBW are versatile along with the banner hardware for hanging them, making them effective no matter where you choose to put them. With new and old options available, your display can be exactly the imagery you are looking for this holiday season.
Additional options
Our new holiday banners available to you also have hanging options to assist you in putting them where you need. With options for grommets, a dowel space, or top grommets with suction cups, you can hang your banner as you might normally or even stick it to glass or metal surfaces! There is truly no limit to the options available for you to take advantage of at KBW, and that is why our banners are the best choice for cheerful holiday decorations this winter season. And, at reasonable prices, it is easy to see why KBW is the premier provider of printed banners.
With decades of experience creating the best banners around, Kalamazoo Banner Works has the expertise and capabilities you can count on for your holiday banner needs. Order today or contact us to learn more about what we can do for you!