Screen Printed Banners versus Digitally Printed Banners: How to Choose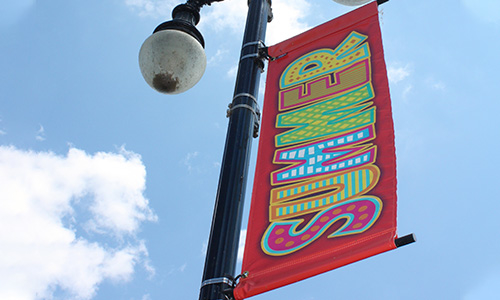 In our KBW vertical street pole banner division, we are often asked about which is best: screen printed or digitally printed banners. It's an excellent question and I'm happy to say there is often NOT an easy answer. The reason I say "happy" is because I personally prefer screen print for the vibrant inks and rich, durable marine acrylic fabrics. And, it was our very first product line back in 1983 and we're really good at it!
However, digital technology is difficult to beat when it comes to all that now makes up the digital world: photographic images, complex tones and tints, image manipulation, easy customization and on and on.
But, as I've written before, many folks "over use" that digital capability and try to do too much and show too much. But, when digital designs and files are accomplished with real skill and finesse, digital banners can be wonderful, bold and intriguing. With the spot-color screen print that we produce at KBW, graphic artists are more limited in the complexity of images and, therefore, the tendency is for the content to be simpler, bolder and more "readable". Not a bad combination.
With the question of durability, the two options compete fairly well. In the "old days" of digital (only ten years ago), the inks were not as durable or the substrates or fabrics not as varied or interesting. You would see a lot of shiny, faded vinyl digital banners. Not so much anymore. Much has been accomplished to make them richer and more UV resistant. Also, up until about five years ago screen print was most always less expensive for a run of five banners or more. Now, digital is very often less expensive. The only caution is to make sure that the chosen vinyl is strong enough for 70 mph-plus winds (and make sure you have the best outdoor banner hardware). At KBW we guarantee that it will be.
And with all that, how do you choose? We have dedicated customers that ALWAYS want screen print because the fabrics are rich, bold colors that last virtually forever (it's Sunbrella® – A Sunbrella awning or boat cover will serve well over 15 years). And, again, the images tend to be simpler and the inks richer. With larger runs, such as 20 banners and up, the price is very close with both methods and will generally only vary by 10% either way. Again, with digital you are offered complexity, easy customization with typically quicker turn-around time on short runs.
So, consider those differences, and if you need sample swatches of both methods to assist you, we are happy to send those free of charge.
My first choice is screen print if the images work in favor of that method due to the inherent richness.