Show Seasonal Messages with Quality Seasonal Banners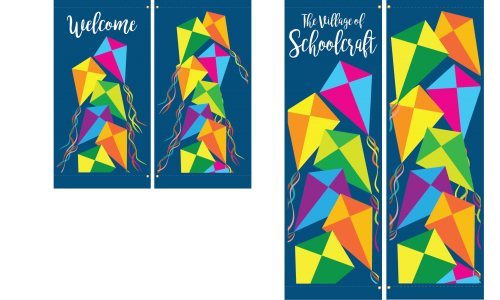 With the spring and summer 2021 seasonal banner designs available at Kalamazoo Banner Works, your business, event planning, and more have a great way to get messaging out to your target audience. A popular choice for many who order banners with us, the seasonal banner designs that KBW offers throughout the year, every year, give a bright and colorful way for anyone to message in an effective way.
Images for all occasions
The designers at Kalamazoo Banner Works know what makes a season so great, and our seasonal banners represent the best parts of the season that they are made for. Our new spring and summer 2021 line of banners are a great way for townships, businesses, or anyone else in need of a cheerful banner to get out a message alongside a great spring or summertime image. Within these designs, we also have ones that are perfect for holidays of the season as well. Whatever banners you need, our team can help direct you to the perfect holiday banner to suit your situation.
Options for every seasonal banner
Whichever seasonal banner you decide is best for you, there are options to consider to make sure that your banner is exactly what you need. Each of our new spring and summer 2021 banners have options available for the size of the banner that you receive, as well as materials and options for custom text. Different sizes let you fit the banner indoor or outdoor, according to the banner bracket that you have, while materials let you know what your banner is capable of and custom text lets you put the messaging you want. These different options help each customer find the perfect banner for their purposes.
Recognized around the world for our quality banners, Kalamazoo Banner Works can give you the best seasonal banners available this spring and summer. Contact us now to learn more about our banners or to get started on your order of seasonal banners!