Stand Up to Seasonal Winds with Strong Street Banners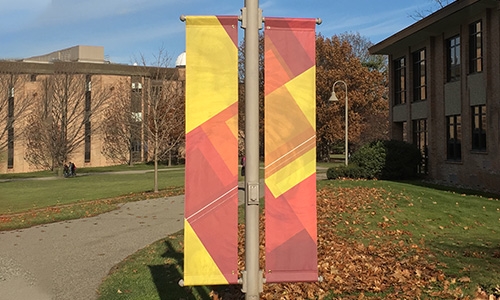 As we get further into the fall and closer to winter, you may be experiencing high winds that tend to come in this time of year, and you can fly messages in this without worry through the use of Kalamazoo Banner Works' street banners. Businesses and individuals alike can confidently hang banners on light poles, walls, and more without winds becoming an issue.
A strong base
When deciding to install a banner, a first good step is to ensure the base of where your banner gets installed is strong enough to hold a street banner that faces high wind speeds. Whether you do this by contacting the pole manufacturer or a structural engineer who can be consulted to give you an exact estimate of how much force the item in question can withstand, you can guarantee a successful installation of our banner and their equipment to hang for the long-term.
The right equipment
Our sister company, BannerFlex, provides all the banner bracket hardware you need to ensure that your street banners stay secure during high wind conditions. Between strong equipment holding your banner as well as master-crafted banners that hold up to high winds, BannerFlex and Kalamazoo Banner Works provide the best means of getting messages out or sharing seasonal images without worrying about winds. If you need any assistance in figuring out which BannerFlex products will best serve your banner, we provide a wind force calculator that can tell you exactly how extreme of wind speeds your chosen equipment can handle. This can help to make the right decision on gear and is our guarantee to help your banners last.
Kalamazoo Banner Works is the producer of street banners that you can trust when dealing with high wind conditions in fall and winter. With years of experience and a customer-focused mindset, KBW can help you find or craft the perfect banners today!