Street Banners Help Bring Seasonal Colors to your City's Streets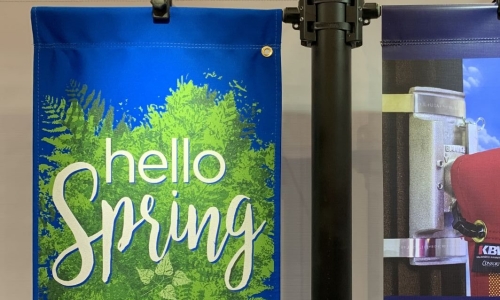 As the weather continues to heat up, you may notice just how many banners are promoting local events and organizations with bright colors to match the season. Banners aren't just a great way to bring attention to your group or event, they are also a great way to bring seasonal colors and decoration to city's streets.
If your community organization is looking to help bring more color to your city this spring, Kalamazoo Banner Works is ready to help. With a wide variety of designs ready to print, whether you're planning community gatherings or just looking to promote your organization, Kalamazoo Banner Works can help you either make or find the banner that will help you bring the colors of springtime to your venue.
Seasonal Designs that are Ready to be Printed!
With premade designs that are already ready to go, Kalamazoo Banner Works offers ready-to-print digital banners in a variety of styles that fit the spring season. With options for custom text, our predesigned banners also make for an excellent way to save time while looking for a banner. Whether you're promoting an event, your organization, or just trying to bring outdoor decoration to your organization, our ready-to-print designs offer a fast and convenient way to find a banner to bring bold and bright colors to your event.
If you want a design that is unique to your organization, you can also take advantage of the custom banner services by Kalamazoo Banner Works. By uploading a file of your design, we'll be able to turn your digital design into a set of custom light pole banners with your organization's design on it exactly how you designed it. We'll do our best to match the colors of your design so that the final product is just as bold and lively as you designed it to be. Screen printed on sturdy fabrics, either Sunbrella Marine Acrylic or 22 oz. Blockout Vinyl, your design will be well preserved through wind, sun, and rain.
With vibrant ready-to-print designs, as well as custom screen-printing banner options, Kalamazoo Banner Works is ready to help your organization bring the lively colors of spring to your city. For more information about our banners, as well as the resources we provide, please contact us today!