Street Events are the Perfect Opportunity for Street Banners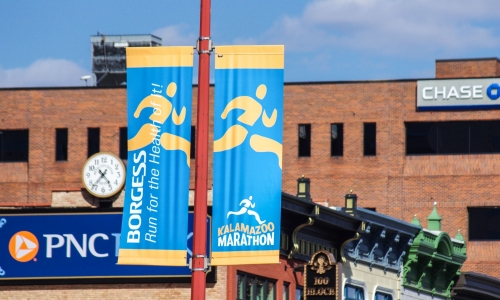 Street banners may catch the eye of passersby, but they become especially useful for streetside events. Capable of providing information, guiding individuals where they need to go during an event, giving timelines of what is going on during an event, and more, what goes onto a banner from Kalamazoo Banner Works is only limited by your imagination. As banner experts with decades of experience, you can count on KBW to provide you with all the resources you need for a successful event.
Put your own messaging on street banners
Although Kalamazoo Banner Works can provide groups with great options for the season, special holidays, and more, messaging for your event can be made more customized than our standard messaging. Many of the banner patterns that we have available have an open area specifically for you to decide what text you want included for your event. This can make the signs feel more useful to guests by giving them the information they might need, while still offering an eye-catching, appealing design. Simply write the custom text you want when ordering a street banner and choose the font for it before adding it to your cart!
Your own designs on quality street banners
If you have a specific design that you would like printed on a quality banner, Kalamazoo Banner Works also provides the ability to include your own banner design when ordering! By following the guidelines set forth by us, you can ensure a quick turnaround and get the exact banner that you are looking for with ease. We can still provide the design on either marine grade acrylic or 22 oz. reinforced vinyl, whatever would suit the type of image that you are going for best. If you have photo-realistic images you would like from your own design, then vinyl is the best choice, otherwise choose acrylic for bright colors that will really help your street banners pop. Once your design is ready to go and you want it included on a banner, simply send it our way, and we will get you started on the process.
With endless designs available for digital printing banners, the art department at Kalamazoo Banner Works will help with free, no obligation design services for most projects. Simply contact our team at Kalamazoo Banner Works, and we will work together with you to find the best banner design for your street banners to hang during street events.