View KBW Banners on Your Street Poles Before You Buy!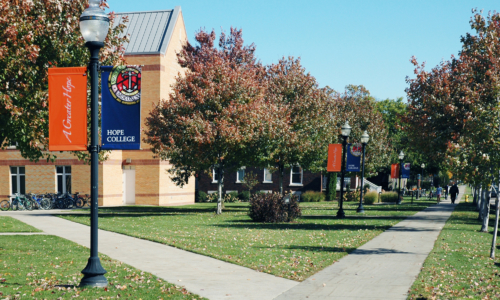 Do you have a potentially new light pole banner project and you're just not sure how the banners will look on your poles? If so, here's some information for you. Our KBW/Consort art staff can show you exactly how those banners will "welcome" folks to your designated place.
First, let me show you some actual before-and-after photos to get the idea rolling and then I'll show you some "Photoshopped" images on poles with banners added digitally. The campus photos here are from Hope College in Holland, Michigan. Again, these are actual photos, not enhanced in any way. As you may be able to discern, the photos showing no banners were taken in late summer and the photos of the same locations, but with banners, were taken in early fall. Although the Hope College campus is in itself a wonderful place without banners, the addition of banners in certain locations adds a confident "invitation" to visitors and perhaps even a "sense of pride" for the students and the campus in general.
Now, back to the question of how your location will appear or be enhanced prior to actually installing banners let's look at the City of Monona, Wisconsin. The City supplied some photos of the intersection of Monona Drive and Broadway where they were considering adding banners to invite folks and show that sense of pride and place that is so important to all of our cities. In this case, Monona is a wonderful lakeside community adjacent to Madison. In order to assist in sustaining and promoting its own heritage and attributes, Monona has used light pole banners for many years in other areas, notably the well-known Monona Terrace. However, in helping to determine if larger banners were to be installed on a major thoroughfare, the city supplied our in-house sales representative, Corey Rolfe, with photos showing the "bare" light poles. Then, our Industrial Designer, Eastan Bakka, "installed" the single blue banners digitally onto the photo using Photoshop® – notice how the perspective and lighting is especially "real" with the four banners – pretty good, eh?! Yes.
As it turns out, the city decided to purchase the
banners
, and our BannerFlex hardware, but made the change for single banners on many poles to double banners on less poles. They did not need us to show them that presentation.
I hope this helps to explain the option of "mocking up" potential banner projects and how light pole banners can increase the look of success and pride in a neighborhood or campus.